Wat Sene- LuangPrabang
National Museum
The great Stupa ThatLuang
WatPhamaHatThat LuangPrabang
ST OL 08 : EXPLORER LAOS
( 10 days/ 9 nights ) Pakse- Konglor – Vientiane -  LuangPrabang
Laos in brief the people's democratic Republic of Lao is located in the center of in the center of Indochina, sharing borders with China to north west, Thailand to west, Cambodia to the south, and Vietnam to the east.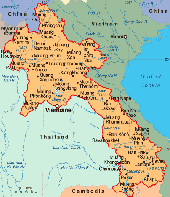 Laos has a population of a bout 5,5 millions inhabitants and make up of 48 different ethnic groups with an are of 236,800 square kilometres. Around 70 % of its terrain is mountainous reaching a maximum elevation of 2,820 m in Xieng Khouang province. The landscapes of northern Laos and regions adjacent to Vietnam in particular are dominated by hills. The Mekong river is the main geographical feature in the west and in fact, from a natural border with Thailand and some areas. The Mekong flows through nearly 1,900 km of Laos. In the south the Mekong reaches a breadth of 14 km, creating an area with thousands of land. The capital Vientiane and all other major cities and towns are located of the bank of the Mekong river, while virtually every village depends on the vital bon between the land and water. The first kingdom of laos is Lane Xang kingdom (the Land of Million Elephants.)
Day 1: Arrival into Pakse from REP and drive to Champasak
Upon arrival you will be met and driven to Champassak.
You are free and easy after the hotel checking in.
Overnight in Champasak
Day 2: Full day tour to Bolevan Plateau
This morning we leave early and drive north to the Bolaven Plateau. The Bolaven Plateau is known for its cooler temperature being located high above the Mekong Valley. Our first stop is to visit Ban Lak Sipkao, a village specializing in knife making. We then stop tea plantation, followed by a stop at Tad Fan Waterfall, a picturesque twin chute waterfall. We then make a stop at a coffee plantation, en route to Tha Teng Market, a colourful ethnic minority food market. Next we explore a couple of fascinating minority villages, Ban Pong Neua, an Alak village that boasts a sacrificial altar, and Ban Kokphung, a Katu village where they keep coffins under their houses. We also make a stop at the beautiful Tadlo Waterfall, then head back to Pakse and on to Champasak. Overnight in Champasak (Breakfast)
Day 3: Full day tour of 4000 island and drive to Pakse
After breakfast, we visit Wat Phou, an ancient Khmer religious complex dating back to the 5th Century. This dramatically sited temple is one of the highlights of any trip to Laos. We then continue south to Ban Nagasung village, where we board a local private boat for a boat tour of the 4000 Islands. We reach the picturesque island of Don Khone by lunchtime, and in the afternoon explore the island by bicycle or Tuk Tuk or Walking, tracing the route of an old abandoned railway and admiring some of the old French Colonial buildings, and the beautiful Liphi Waterfall. We then return to our boat and head back to the mainland, visiting the spectacular Khone Phapheng Falls, one of the largest and most powerful waterfalls in Southeast Asia. In the late afternoon we drive to Pakse town, arriving there by early evening.
Overnight in Pakse (Breakfast)
Day 4: Pakse drive to Konglor Cave
This morning we are back on the road heading north to Hinboun, Konglor. En route we stop to visit the town of Savannkhet, famous for its French Colonial buildings and also the sacred stupa of That Inhang. We have ample time to explore the town before reaching Hinboun village in the early evening. Overnight in Hinboun village (Breakfast)
Day 5: Tour Konglor Cave
After breakfast at Sala Hin Boun we continue by boat upriver to Kong Lor village, where you have the chance to explore, before boarding a smaller boat into the famous Kong Lor Cave. We navigate through the cave, which is over 7km long and includes a spectacular cavern over 100m high, following lunch in a remote village on the other side of the cave. We return to Sala Hin Boun before sunset. Overnight in Hin Boun (Breakfast, lunch)
Day 6: Hinbound/Konglor drive to Vientiane
After breakfast, you will be picked up from your hotel this morning, and travel north along route 13. En route we stop at Prabaht Ponsan, an Ancient stupa dating back to the 15th Century. It is also home to the Ancient Budhhas footprint, discovered in 1933, and now an important religious site in Laos. Following lunch we continue onwards into Vientiane province. We arrive into Vientiane capital by early evening and free and easy after the hotel checking in.
Overnight in Vientiane (Breakfast)
Day 7: Vientiane / City tour and fly to Luang Prabang
AM: Highlights of Vientiane
This morning we visit the oldest landmark in Vientiane, Wat Sisaket, which escaped looting by invading Siamese in the 19th century. We also visit the former royal temple of Wat Phra Keo, original home to the emerald buddha now housed in Bangkok. Continue on to the national icon That Luang stupa and Laos' very own Arc de Triomphe the Patuxai monument, offering views over the city.
PM: Xieng Khuan Spirit City, "Buddha park"
After lunch, we visit the slightly surreal park of Xieng Khuan. Built by a monk through the 1960s until the revolution in 1975, this is a landscape of Hindu and Buddhist sculptures, and perfect for informal exploration by adults and children alike.
We then take our evening flight to Luang Prabang.
Arrival into Luang Prabang and be met by our guide and drive to transfer to your hotel for check-in. Overnight in Luang Prabang (Breakfast)
Day 8: Luang Prabang / City tour and Khouangsi fall
AM: Early Morning Devotions
Rise early to witness one of the most magical and timeless scenes of Southeast Asia: hundreds of monks processing through the streets of Luang Prabang accepting offerings of food from the local residents and businesses. Rising early also gives the chance to wander through the fresh market on the way back to the hotel for breakfast.
Return to the UNESCO protected city centre to appreciate its unspoiled Laotian-colonial fusion architecture, taking in notable Buddhist temples: Wat Xiengthong, with its traditional roofs sweeping low to the ground, the impressive stupa of Wat Visoun, Wat Sene, the city's oldest temple, and the shrines of Wat Aham and Wat Mai. Finish at the Royal Palace Museum.
PM: Khouangsi Falls
After lunch drive to the beautiful waterfalls of Tat Khouangsi. Below the 90m drop of the main cascade are a series of pools, connected by smaller falls and cascades. At low water levels the water is an unbelievable turquoise, and swimming in the lower pools is a great way to cool off in the afternoon.
On the walk through the forest to the falls, you will also pass the Free the Bears project – home to a group of rescued Asiatic Black (Moon) Bears and one Malayan Sun Bear. In the early afternoon they are often searching for food hidden in their enriched environment enclosures. Or they may just be sleeping! The route home gives the opportunity to stop at the villages of some of the (over 100) different Lao ethnic groups at Ban Ou, Ban Ouay and Ban Thapene.
Overnight in Luang Prabang (Breakfast)
Day 9: Luang Prabang / Full day Mekong Cruise
Today we embark on a cruise upstream on the Mekong River, firstly stopping at Xiengmene, where we visit Wat Long Khun, and the limestone cave Tham Sakkarin, and a tour around Ban Xiengmene village. Following a picnic lunch, we then continue by boat up the Mekong which also gives us a breathtaking view of the tranquil countryside as well time to explore the mysterious Pak Ou Caves, two linked caves crammed with thousands of gold lacquered Buddha statues of various shapes and sizes left by pilgrims. Along the way, we stop at the village of Ban Xanghai, where they make the local rice wine. On return, we take a short drive to Ban Phanom, a small village known for its hand weaving. Overnight in Luang Prabang (Breakfast, Picnic lunch)
Day 10: Departure
After breakfast, free and easy at own leisure until time to transfer to the airport for your outbound flight.
End tour in Laos!

Validity:
DESCRIPTION

Number of passenger(s)-Nett per person

Single
supplement

In single

in half-twin room

1

2

3-5

6-9

10-14

15-19

20-24+1

Standard class

Superior class

First class
Validity:
DESCRIPTION

Number of passenger(s)-Nett per person

Single
supplement

In single

in half-twin room

1

2

3-5

6-9

10-14

15-19

20-24+1

Standard class

Superior class

First class
+ Surcharge for Christmas and Eva New year upon confirmation
+ 1 FOC in half twin room for group from 20 pax and up.
Supplement: Flight ticket Vientiane to Luang Prabang via Lao Airline @ US$109/ticket
(Airfare & flight schedule are subject to change by airline without prior notice)
Including services
Hotel accommodation by twin share basis with daily breakfast
Ground transportation by private, air-cond vehicle
Regional ENGLISH speaking guide
Sightseeing with admission fees
Private boat trips as programmed
Mineral water and cold tissues on tours
EXCLUDING services
International air tickets arrival to and departure from Laos
Visa stamping on arrival to Laos (US$ 30 per person)
All other meals & beverages are NOT mentioned in the program
Personal expenses and Tips
Trip Summary :

Where:

Trip starts in Savannakhet and ends Savannakhet

When:

All year round;

Grade:

Moderate to Strenous;

Accommodation:

Tourist-class hotels (Standard and clean hotel),

Transport:

Private car or bus, boat, public ferry,

Meals:

As indicated;
(B=Breakfast, L=Lunch, D=Dinner)