Wat Sene- LuangPrabang
National Museum
The great Stupa ThatLuang
Victory gate - Arc de Triomphe de Vientiane

ST OL 04 : LAOS OVERVIEW
( 7 days/ 6nights ) starting from
VIENTIANE - VANG VIENG - XIENG KHUANG - LUANG PRABANG

Laos in brief the people's democratic Republic of Lao is located in the center of in the center of Indochina, sharing borders with China to north west, Thailand to west, Cambodia to the south, and Vietnam to the east.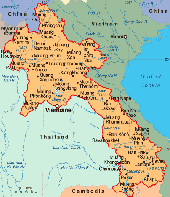 Laos has a population of a bout 5,5 millions inhabitants and make up of 48 different ethnic groups with an are of 236,800 square kilometres. Around 70 % of its terrain is mountainous reaching a maximum elevation of 2,820 m in Xieng Khouang province. The landscapes of northern Laos and regions adjacent to Vietnam in particular are dominated by hills. The Mekong river is the main geographical feature in the west and in fact, from a natural border with Thailand and some areas. The Mekong flows through nearly 1,900 km of Laos. In the south the Mekong reaches a breadth of 14 km, creating an area with thousands of land. The capital Vientiane and all other major cities and towns are located of the bank of the Mekong river, while virtually every village depends on the vital bon between the land and water. The first kingdom of laos is Lane Xang kingdom (the Land of Million Elephants.)
Day 1: Arrival – Vientiane
On arrival at Wattay Airport, you will be met and transferred to your centrally located hotel. Vientiane is a charming and fascinating capital, with an interesting mix of Lao, Thai, Chinese, Vietnamese, French, Soviet and American influences.
Overnight in Vientiane
Day 2: Vientiane Tour (B)
A city tour acquaints us with the capital and after a short rest, we start visiting the major sights; including the oldest Wat Sisaket, the temple with thousands of miniature Buddha statues and the former royal temple of Wat Prakeo, which previously housed the famous Emerald Buddha Image. Enroute to Lao's national precious heritage, the famous and sacred structure of That Luang Stupa, you will have the opportunity to take some pictures of the imposing Patuxay Monument, which is well known as Vientiane's own Arc de Triumph. After lunch (own account), we visit the slightly surreal park of Xieng Khuan. Built by a monk through the 1960s until the revolution in 1975, this is a landscape of Hindu and Buddhist sculptures, and perfect for informal exploration by adults and children alike.
Overnight in Vientiane
Day 3: Vientiane – Vang Vieng (B) (by road)
We leave this wonderful town after breakfast for our journey northbound on route no. 13. We will see some breathtaking scenery enroute as we pass through spectacular countryside towards the mountainous region. We make a stop along the way at Vang Xang, a famous archeological site dating back to the 11th century. We reach our final destination in the afternoon, the small and tranquil village of Vang Vieng, which is nestled on a bend of the Nam Song River. Its stunning scenery with a mixture of quiet water and limestone outcrops remains unspoiled, despite recent developments with the advent of tourism. On arrival at Vang Vieng, we cross the Nam Song River to Tham Jang caves and then enjoy a short trek through breathtaking mountain landscape to explore the Tam None Cave and some hill villages. Today ends with a superb panorama of the sunset reflecting over the Nam Song River.
Overnight in Vang Vieng
Day 4: Vang Vieng – Xieng Khuang (B) (by road)
Today we will set off early driving up route 7TH north to Xieng Khuangg, which was devastated by American bombing between 1964 and 1973. Upon arrival, we transfer out to visit the Plain of Jars, an impressive archaeological site where hundreds of large stone jars are littered all over the plateau. We also have time, this afternoon seeing the old capital of Muang Khoun Province and the nearby villages, home to the Hmong hill tribe and Tai Dam people. They have an interesting local culture and a colorful history.
Overnight in Xieng Khaung
Day 5: Xiengkhouang – Luang Prabang (B) (by road)
Early morning, we visit the Central Market of Phonsavanh to watch the different hilltribe people barter and exchange merchandises. We then head out this small town towards Luang Prabang, enroute we stop off to see the Buddha images in Thampra, a site more than 200 years old, and various Hmong and hilltribe minority villages along the way. Really nice and friendly people welcome you to their villages. After a photo stop, we continue driving uphill, enjoying the splendid natural scenery of the mountains, the forest and landscape. After a tea or coffee break at Sala Phoukhoun, where the borders of Vientiane-Xiengkhouang-Luang Prabang meet as a T-Junction. The journey will take us over mountainous regions until we approach Luang Prabang.
The tranquility and charm of this town with its splendid natural scenery and cultural sights make it one of the most delightful places to visit in Laos. After checking into hotel, if time permits, we visit the impressive stupa of Wat Visoun and the shrine of Wat Aham, Wat Mai; we then climb up to the top of Mount Phousi to explore the sacred, gilded stupa as well as capture a beautiful view of the city and the Mekong River at sunset. From there, we visit the Night Market, where you can browse a lovely selection of handmade textiles, made by the local people and hilltribe people surrounding Luang Prabang.
Overnight at Luang Prabang
Day 6: Luang Prabang – Pak Ou cave – Khouangsi waterfall (B)
An optional early start gives you the fantastic opportunity to participate in the daily morning rituals of saffron-clad monks collecting offerings of Alms (ubiquitous sticky rice) from the faithful residents. This tradition is very unique in Laos, being the only Buddhist nation still preserving the procession.
AM: After breakfast, we enjoy a short-guided tour seeing the city's oldest temple of Wat Sene and the magnificent Wat Xiengthong with its roofs sweeping low to the ground, which represents classical Laotian architecture. We then board a cruise upstream on the Mekong River, which also gives us a panaromic view of the tranquil countryside as well as an interesting visit to the mysterious of Pak Ou Caves, two linked caves crammed with thousands of gold lacquered Buddha statues of various shapes and sizes left by pilgrims. Along the way, we stop at the small village of Ban Xanghai, where the local rice wine is distilled. We return to Luang Prabang by late afternoon and continue to Ban Xangkhong, a village well known for silk handweaving and for traditional Saa Paper making.
PM: We continue our excursion toward Khouangsi Waterfall, en route, we visit local villages of Lao ethnic minority groups at Ban Ouay, Hmong Village, Ban Ou, Laoloum Village and Ban Thapene, Khmu Village, then drive to the beautiful Khouangsi Waterfall where you can splash around in the turquoise pools or walk along the forest trails. The Khouangsi Waterfall setting really illustrates paradise. We return to the city by late evening to observe the sunset at Wat Siphouthabath.
Overnight in Luang Prabang
Day 7: Luang Prabang – departure (B)
After breakfast we visit The National Museum (close Tuesday) at the former Royal Palace, which displays a lovely collection of the artefacts reflecting the richness of Lao culture dating from the days of the early kings right through the last sovereign, Also the Central Market is not to be missed. After visiting these sights in the morning, you have free time to explore the town and stroll around the shopping area. The tour ends after your transfer to the airport for departure
"END OF SERVICES"
Validity:
DESCRIPTION

Number of passenger(s)-Nett per person

Single
supplement

In single

in half-twin room

1

2

3-5

6-9

10-14

15-19

20-24+1

Standard class

Superior class

First class
Validity:
DESCRIPTION

Number of passenger(s)-Nett per person

Single
supplement

In single

in half-twin room

1

2

3-5

6-9

10-14

15-19

20-24+1

Standard class

Superior class

First class
+ Surcharge for Christmas and Eva New year upon confirmation
+ 1 FOC in half twin room for group from 20 pax and up.
Including services
Hotel accommodation by twin share basis with daily breakfast
Ground transportation by private, air-cond vehicle
Regional ENGLISH speaking guide
Sightseeing with admission fees
Private boat trips as programmed
Mineral water and cold tissues on tours
EXCLUDING services
International air tickets arrival to and departure from Laos
Visa stamping on arrival to Laos (US$ 30 per person)
All other meals & beverages are NOT mentioned in the program
Personal expenses and Tips
Trip Summary :

Where:

Trip starts in Vientiane and ends in Vientiane -Laos

When:

All year round;

Grade:

Moderate to Strenous;

Accommodation:

Tourist-class hotels (Standard and clean hotel),

Transport:

Private car or bus, boat, public ferry,

Meals:

As indicated;
(B=Breakfast, L=Lunch, D=Dinner)